vTime Becomes vTime XR - The First Cross-Reality Social Experience
Vicky Roberts / 19th Feb 19
We've added AR Mode to become the world's first cross-reality social experience
Today's update adds the magic of augmented reality (or AR) to our sociable network, giving you the power to bring our world into yours. Meet vTime XR – the world's first cross-reality (XR) social network!

For the first time, you can meet, chat and share with people in AR, VR, or 2D Magic Window mode. With vTime XR, the choice is yours! You're now part of a community that spans seven platforms, over 190 countries, and now three realities.

While VR users stay fully-immersed in our detailed locations, AR mode allows you to place a live, 360-degree model of your chosen destination on any real-world, flat surface. You can explore, move around, shrink and grow the model, all while chatting and sharing with friends in a normal vTime session! You also have full access to vTime features such as avatar customization, image sharing, private messaging, and more.

Launching on iOS and Android today, AR mode is available for all supported phones compatible with Apple's ARKit and Google's ARCore.*
New Features:

Choose your reality: Hang out with friends in augmented reality, virtual reality, or without a headset in Magic Window mode.
Introducing AR Mode*: Powered by ARKit and ARCore, vTime XR now lets you meet with friends inside augmented reality destinations. Simply find a flat surface, place your vTime destination, and invite or join friends. Pinch to change the scale, and use two finger swipe to rotate.
Learn how to use AR mode in vTime XR here.
What Are Augmented Reality Or AR Apps?
Augmented Reality or AR apps use a phone screen or AR smartglasses to place digital images or information on top the real world. Snapchat, Pokemon Go, and IKEA Place are examples of well known AR apps.
*AR mode is powered by Apple's ARKit and Google's ARCore. ARKit is available for iPhone 6s and above running iOS 11 and above. ARCore is only available for a select number of phones running Android 7 and above. Find a list of ARCore compatible devices here.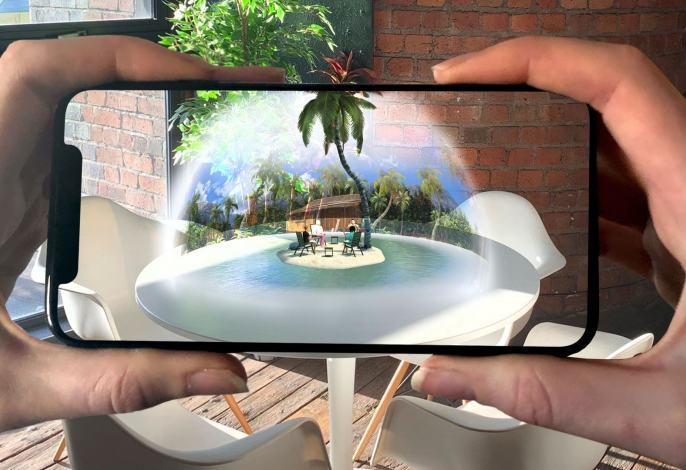 ---